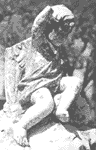 The 20 acres of land overlooking the Trinity River was donated to Fort Worth by John Peter Smith in 1879. Now, this cemetery looks across the Trinity at the city Fort Worth has become.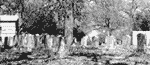 Many of the "residents" were the people who shaped the city. A fitting resting place for them; to forever see the progress and growth of Fort Worth.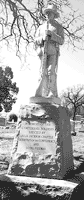 Oakwood Cemetery boasts many impressive headstones and markers. One section, called "Soldier's Row," is a strip of land dedicated to Confederate Veterans and their wives.
An air of peace surrounds Oakwood Cemetery. Tall trees and rolling hills characterize the area. The silence in the cemetery is only broken by the occasional train in the distance.
The thumbnails link to larger images of some of the markers in Oakwood Cemetery.